2019 marks the 175th anniversary of Whyte & Mackay, and to celebrate the event, the blenders have released a whisky that money can't buy! Literally! This 50 year old blended scotch whisky has been made available to a select few and competition winners only. The blended whisky's components have been matured in a combination of Bourbon barrels, first-fill and second-fill Matusalem Sherry butts, Tawny Port pipes and ex-30 Year Old Apostoles Sherry butts. The release is limited to 1,500 bottles (each at 50cl) and captured at 44.6% ABV.
Nose
Wow. This has such a thick and dense smell to it. There are just so many delicious things that start to unfold in the vapours. There are little waves of black currants, blueberries, dusty books, mahogany, [insert your own Ron Burgundy joke], raspberry jam, creme de cassis, port wine, raisins, figs, strawberry purée, sunripened raisins… etc. etc. They just keep on coming! Man alive. It also has that unmistakable smell of the dunnage warehouses (thanks to @MaltMusings for reminding me of the word!) where the components to this whisky have presided for at least half a century!
Taste
Such a cloying yet soft treacle texture just coats the whole of the inside of your mouth as you drink this. All of the nose's delicious, unctuous, juiciness and sweetness reveal elements that have seeped out of the barrels' oaky pores through time and have come home to roost. On the tongue there are more dark and aged flavours that roll out in addition to all of those that re-appear from the nose. New additions seem to be tobacco leaf, dark honey, black treacle, dark chocolate (in fact, good call to @SpiritAndWood, making that dark chocolate fruit and nut), Brazil nuts, demerara sugar, shortbread, rich black cherries and coffee. I agree with @The_Lady_Sybil that every time I sip this whisky I get some new little something!
Finish
My mouth is still watering long after each little sip has gone down – and I am having little sips to ensure I can enjoy every little note! It has almost a squash/cordial like texture as it goes down (cheers @MaltBox) and the multitude of flavours all just continue to fizzle and reveal themselves, just a little more muted by the second as they fade out, just like an epic heavy metal song's finale.
Verdict
Well, I hope that I have this much kick and life to me when I get to 50!! 💪 The age and character of each barrel seems to bring a whole roster of flavours per component to the final blend. You can tell from the notes above that there a whole load of flavours trapped within the liquid itching to get out. With a whisky of this age, you need to show it respect and give it the time to slowly unveil the influence of 5 decades of maturation. With all those influences and darker, steeped flavours at play, this doesn't just taste like Christmas. It basically is Christmas! I do like the concept that this a celebration of whisky and has only been officially made available freely to those who appreciate whisky only – rather than taking the opportunity to attach an eye-watering price tag! That said, it is estimated that bottle would ordinarily retail at around £5000, with someone already having been found trying to flip their bottle at £4000. On that note however, it's fair to say that we will seldom get the chance to actually taste 50 year old scotch whiskies in our lifetime, and as one such person who appreciates whisky, I just want to say thank you so very much to @TweetTastings @TheWhiskyWire and @whyteandmackay for the opportunity! Outstanding. 🙏 #WhyteChristmas
M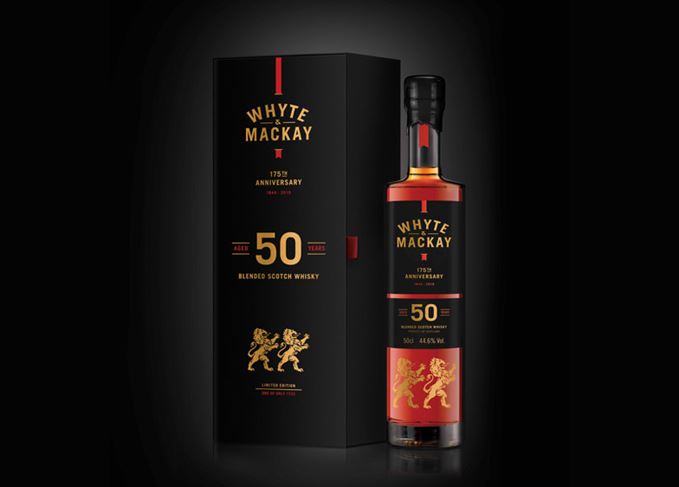 Sample disclosure: This sample was received as part of a promotional Tweet Tasting event for Whyte & Mackay. All notes however are intended as an honest, fair and independent review of the whisky. If I didn't like it, you'd know about it, but oh man, did I enjoy this one!